Main features
Fancy Tees are new and innovative golf tees
They are made of two different types of plastic material moulded together: a rigid structural element made of copolymer polypropylene with a high degree of elasticity and extremely impact resistant onto which a soft coating of thermoplastic elastomer is overmoulded. This means that performance levels can be improved thanks to the synergy of he physical-mechanical properties found in both materials.
The soft material on the tee top has a very nice feel to it, it provides excellent grip when inserting the tee into the ground and more stability to the ball when placed on the tee.

Born from marriage of two passions, one for design and the other for golf, Fancy Tees and Fancy Tools are tiny accessories which unite both performance and a refined elegance.

Fancy Tees were created in 2002 from the pencil of Lorenzo Bonfanti, industrial designer and golfer, who thought to replace the usual golfing tee with a tee made of two plastic materials, characterized by an innovative design and produced in various bright color combinations with pleasant graphic and chromatic effects.

Fancy Tees are protected by international patents.

Conforms with USGA and R&A Golf Rules

Fancy Tees and Fancy Tools are entirely made in Italy. They are said to be beautiful in their design and to reflect Italian craftsmanship and creativity.

We assign some packaging work to local social cooperatives whose aim it is to develop the potential of individuals with disabilities and we thank them for the excellent work provided.

Other product versions


Fancy Tees LIBERO

The Fancy Tee Libero was designed to minimize contact with the ball and facilitate a ball launch as free as possible

The Fancy Tee Libero helps golfers gain distance and performance

The tee shaft ending in a triangular section point enables the insertion when the soil conditions are firm

+ info

Fancy Tees LADY
An 'easy-chic' version expressly designed for female golfers

By shades and color combinations they are suited to those ladies who care for an added touch of femininity also while on the green
Lengths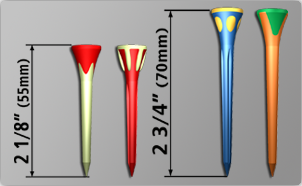 Fancy Tees are available in the two most popular current lengths:

2 1/8" (55mm)
2 3/4" (70 mm) particularly suitable for drivers
Packages
Different types of package are available to satisfy customer needs