Fancy Tools
Main features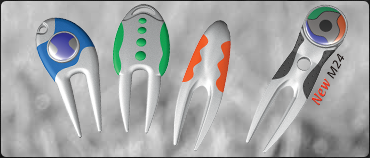 "Fancy Tools", a whole range of repair tools with ball marker made of metal coated with soft rubber for excellent grip and handling.
They are quality products characterized by a winning design and a valuable finish. Fancy Tools are available in different aesthetic versions and color combination.
Lorenzo Bonfanti, designer and golfer, designed and patented these repair tools which stand out in an original way and are much appreciated among golf articles for their superior quality and distinctive characteristics.

Fancy Tools are well crafted products entirely made in Italy.
The range was recently enriched with a new model of repair tool -the M24- with integrated ball marker 24mm in width in order to offer better visibility and possibilities of customization. Repair tools M24 come in various colors including black.
Fancy Tools Lady
An all-female version of the Fancy Tools. They are not mere golf accessories but they look like little jewels

They are chosen by women golfers not only for their exquisite design but also because they appreciate the handiness and the great quality of these golf items.